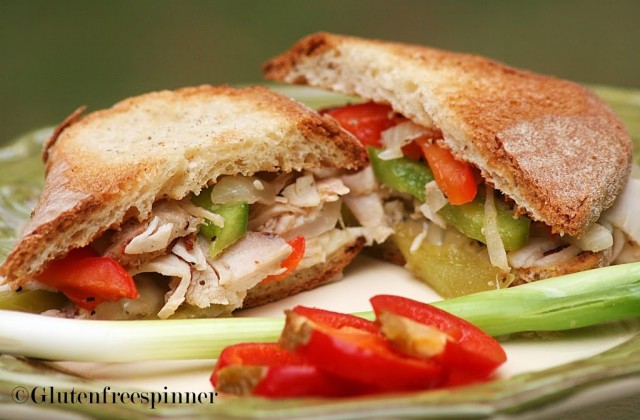 The "Nordeaster" Sandwich
This sandwich originated from a small hot dog and burger joint in Northeast Minneapolis called, "Uncle Franky's". The first time I tried it I knew I had to re-create it at home, and now it's one of my family's favorites. The sub-buns of days gone by really add to the original taste of Uncle Franky's version, but a toasted gluten free bread serves well too. The combination of sweet banana peppers and hot (but not too hot) cherry peppers mixed with sweet Vandalia onions gives this sandwich it's punch of flavor. The turkey is sauteed just enough to give it a dry texture and the final topping of Swiss cheese puts it over the edge. Deeeeeelicious.
Ingredients
1 1/2 lbs of really good – all natural – deli turkey breast sliced a little thicker than normal – (1 lb will make about 3-4 sandwiches, depending how big you want the sandwich.) Cut the large turkey slices in thirds, creating 3" pieces.

1 Tbsp olive oil

1 Tbsp butter

1 sweet Vandalia Onion – (or yellow if you can't find) I've also used a combination of red and vandalia.

1/2 Red bell pepper and 1/2 green bell pepper, cut into 1/4″ slices

1 Jar of Giardinara Peppers. If you can't find them, just get a jar of sliced banana peppers and sliced red cherry peppers. As to how many to add, this is a taste preference so add 1/2 cup at a time.

1-2 thin slices of Swiss, provalone, Mozerella, or pepper jack cheese per sandwich

Crusty Sub Rolls, (which are hard to find gluten free so I use my favorite GF Bread, Udi's, and toast it).
Directions
In a saute pan, heat the olive oil and butter over medium high heat and sauté the onions, bell peppers, banana peppers, and cherry peppers until browned – but not soft. Next add the turkey slices and saute until lightly browned.
Using either butter or olive oil, toast the buns or bread (in oven, toaster, or on grill). If using the oven – be careful not too long or they get dry.

Put a generous amount of the turkey, onions, and peppers on toasted sub. Top with 1 slice of cheese (you don't want the cheese to take over the sandwich) ** and serve with a drizzle of mustard.
** You can also put the sandwich back in the oven or on grill (open faced) before adding the mustard to melt the cheese.