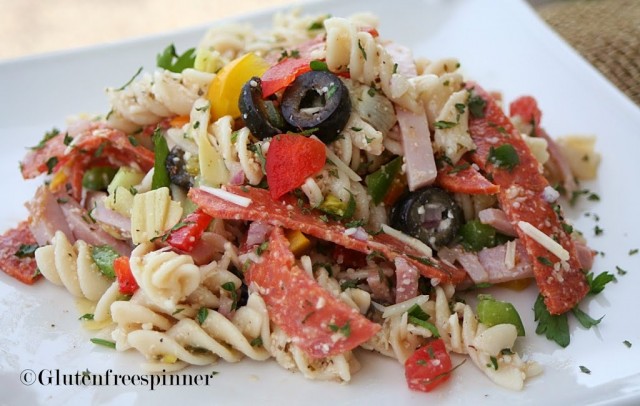 Italian Pasta Salad
This isn't your ordinary Italian Pasta Salad, it's fresher, lighter, and so full of herbal flavors you'll never go back to your old recipe. The difference is the seasonings you toss into the noodles and vegetables and let "marinate" for several hours.

Then the dressing is tossed in just before serving to keep the flavors fresh and bright. The ingredients can be altered to your preference as there are many. This is great served with grilled chicken.

Ingredients:
8 oz organic brown rice pasta fusilli (corkscrew)

1 1/2 cups combination of pepperoni, salami slices , and ham – julienned into 1/4″ pieces

½ cup of diced celery

½ cup each of green, red, and yellow bell peppers

½ cup chopped tomatoes

Black olives – either sliced or whole

Green Olives – either sliced or whole (these add a flavor punch!)

1/4 cup Peperoncini diced into ½" pieces

Finely chopped red onion

1 – 6 oz jar marinated artichoke hearts quartered. Drained, chopped

¼ cup shredded Asiago/Ramano/Parmesan cheese blend (try DiGiorno Brand in deli)
(***My recipe use to call for Good Seasons 1 – .06 oz pkg (Dry) Good Seasons Zesty Italian Salad Dressing Mix *** They have reformulated their mix and is no longer gluten free.)
Dressing: (whisk all ingredients, cover and chill until ready to serve)
½ cup olive oil

3 Tbsp white balsamic vinegar

Juice of ½ fresh lemon

1 tsp sugar

1 Tbsp dried oregano

2 Tbsp fresh chopped parsley

2 Tbsp grated Parmesan cheese

Salt and pepper to taste.
Directions
Cook the noodles according to directions on package until al dente'. Drain and rinse with cold water. Add the cooked noodles, pepperoni, salami, ham, and all vegetables in a large glass bowl. Toss in the Asiago cheese blend and sprinkle the dry dressing mix over all and toss to coat well. Cover and refrigerate at least 1 hour…several is better.
When ready to serve, pour the dressing over the salad and toss well. Sprinkle with Parmesan cheese, garnish with fresh chopped parsley and serve immediately. The fresh flavors are amazing.

This salad is great to make ahead for a party. Bring the noodle mixture, garnishes, and dressing separate and toss just before serving.

Note: I brought the leftover salad to work the following day and the flavors will still fresh and bright…I have to say this is the best ever. Don't skimp on the ingredients, the combination of all makes for a lasting punch of flavor.