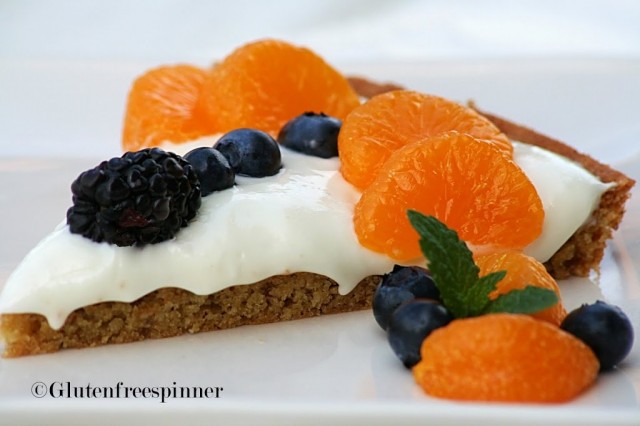 For my son's birthday I made his favorite dessert of all time…Fruit Pizza. For him, I made the original recipe that I've made for years with a refrigerator sugar cookie crust, and I've been craving fruit pizza ever since. The only ingredient I needed to convert was the crust, so I set out to create an easy sugar cookie. I used almond flour for the first time after reading it's flavorful qualities in baking and it was a success! My gluten free crust looks and tastes the same as the glutenous version and I can gladly say Fruit Pizza has been added to my summer menu…hurray!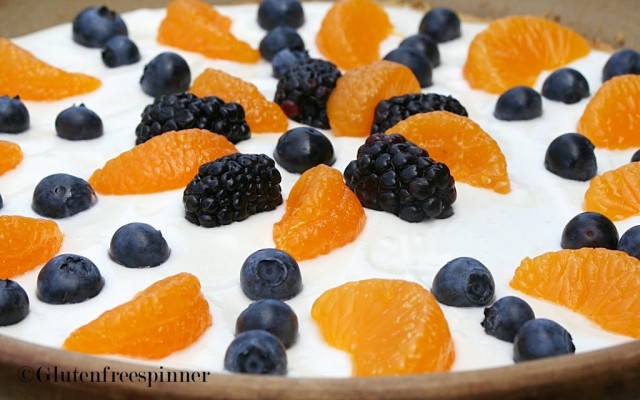 Ingredients
½ cup sugar

½ cup butter

1 egg

1 tsp vanilla

1 cup – plus 2 Tbsp – Pamela's gluten free baking and pancake mix

1/3 cup gluten free Almond Flour

½ Tsp baking soda
1- 7 oz jar Kraft marshmallow crème

1-8 oz pkg 1/3 less fat cream cheese – softened

½ tsp almond extract
Directions
Preheat oven to 350 degrees. Lightly spray a 12" round or oblong baking pan with butter flavored spray. (I used a stone baking dish)
Crust
Cream together the sugar and butter about 2 minutes. Add the vanilla and egg and beat again for 2 minutes until light and fluffy. In a small separate bowl, combine the two flours and baking soda and slowly add to the butter mixture beating on low just until combined.
Spread the batter in prepared pan. The dough is sticky and you have two options: Either refrigerate for an hour before spreading into the pan or add a little canola oil to back of a rubber spatula to help press the dough into the pan.
Bake 14-16 minutes or until it's no longer puffed and the top is golden brown. ..watch the time. Remove and allow to cool.
Filling
Beat all three filling ingredients together until combined and smooth.
Spread the filling over top of cooled cookie crust. Top with your favorite fruits such as raspberries, blueberries, blackberries, kiwi, strawberries, mandarin oranges, etc. and arrange in decorative patterns. Refrigerate until ready to serve. Best eaten the same day. Yum!