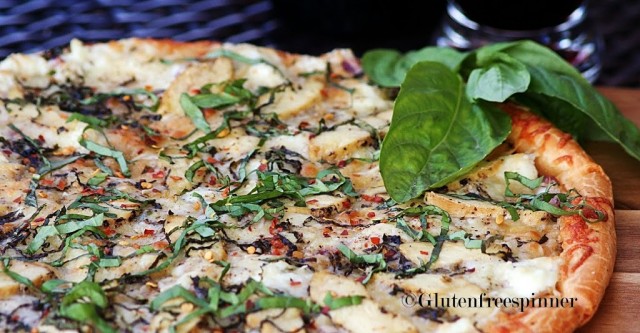 White Pizza
A Friday evening after a very busy week and I was craving a piece of white pizza with rich white cheesy sauce and fresh sweet basil. I used a frozen crust from Whole Foods that was surprisingly light and crispy.
Make your own or purchase one of the pre-made varieties in the freezer section…we're lucky to finally have choices! The sauce is basically a garlic infused olive oil with rich ricotta cheese. Enjoy this Italian treat and add ingredients like artichokes, sun dried tomatoes, or olives to create your own.
Ingredients

Crust of choice (see notes in directions)

4 Tbsp Olive oil

2 cloves of pressed garlic

1 cup Mozzarella or 6 cheese Italian finely shredded blend cheese

½ cup Ricotta part-skim cheese

4 thin slices of red onion

½ cup fresh Basil leaves – divided

½ tsp Oregano

½ tsp Kosher salt

Fresh ground black pepper

Parmesan Cheese

Cooked Chicken Breast (Optional)

Crushed red pepper (optional)
Directions
375 degrees for 25 minutes

Use the crust of your choice. You can buy many varieties of gluten free baking mixes specifically for Pizza or you can purchase ready made crusts in the freezer section of your coop or Whole foods store. Today I am using a frozen pizza crust from Whole Foods and the brand is "Against the Grain Gourmet – gluten free – three cheese pizza shell".

In a medium sauté pan over medium heat, add 4 Tbsp olive oil. Reduce heat to medium low and add 2 cloves of garlic (with outer peeling removed and pressed in a garlic press – adding all the garlic after pressing),1 Tbsp fresh Basil – julienne, 4 thin slices of red onion, ½ tsp dried oregano, ½ tsp fresh black pepper, ½ tsp kosher salt. Sauté, until flavors meld, about 3-4 minutes. Remove from heat.

On prepared crust, pour the garlic/oil over the surface of the pizza…don't pour all of it right away. Pour some, brush on with pastry brush, and add more until the entire surface is covered. Next, with a spoon, smear ½ cup ricotta over top of oil, smearing around to blend into all areas. Add Mozzarella or the 6 cheese Italian blend, and top with Parmesan cheese and fresh black pepper. Next is when you will add the cooked chicken if you are using. Finally, add julienned basil to the top – reserving some for garnish.

Bake 375 degrees for 18-22 minutes or until brown and bubbly to your liking. Garnish with more fresh basil, Parmesan cheese, and red pepper flakes.