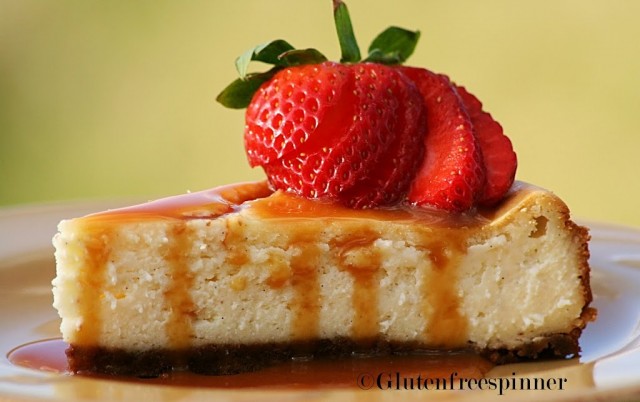 I posted a cheesecake recipe two weeks ago, and although it looked beautiful, I wasn't impressed with the taste, so I pulled the post. Back to the drawing board. I vowed to only post "killer" recipes on my blog, and I will stand by that. Three attempts and several pounds of cream cheese later, I finally have a recipe worthy to post. The deciding factor for me in knowing it was amazing, was to eat the cheesecake plain, without crust or topping, to verify the actual flavor and texture.
The first thing you notice is the richness of the cheesecake, creamy and moist yet dry enough to give the cheesy texture we all love. The vanilla bean presents itself in tiny flecks of flavor with a burst of vanilla lingering in every bite. The crust…I love a traditional graham cracker crust, however that's not a choice in the gluten free diet. So try your favorite gluten-free cookie crushed (which replaces the graham cracker). I tried many different options and give you a few of them below. The Arrowroot Cookies and the Pecan are my favorite for this cheesecake. As for toppings…limitless! Top with your favorite.
It's also good to note that I'm not a purist when it comes to allowing cracks in my cheesecake. Traditionally, you use a water bath when baking to prevent any cracks in the top. I think the cracks look authentic, 'peasant style' if you will (you can see a crack in the picture above), but I may be an anomaly. So the recipe below is without a water bath. By all means, use one if you don't want cracks – the taste will be the same.
Ingredients
Crust
Preheat oven to 350 degrees
Use one of the cookies below:
1 pkg Pamela's Simplebites chocolate chip mini cookies

1 pkg Midel's Ginger Snaps

1 pkg Midel's Cinnamon Snaps

1 pkg Midel's Arrowroot Cookies

1 Pkg Midel's Pecan Cookies
Crush the cookies and add the melted butter. Combine well. Spray the bottom only of a 9" springform pan with non-stick spray and press the cookie crumb mixture into the bottom of pan to form a crust. Bake at 350 degrees for 6 minutes and remove to cool.



Reduce heat to 325 degrees




Filling
2 – 8 oz pkgs cream cheese

1 – 8 oz pkg 1/3 less fat cream cheese

1 cup white sugar

2 Tbsp Pamela's baking mix

1 Tsp vanilla extract

1 vanilla bean

2 eggs

2 Tbsp whipping cream

½ cup sour cream
Directions


Beat all three packages of the cream cheese together. Add the sugar, slowly, beating until blended then sprinkle the flour over top and add the vanilla extract, and the beans from vanilla bean. Don't over beat, just enough to blend. Next add the eggs, one at a time only beating 30 seconds each. Remove from beater and with a rubber spatula, fold in the whipping cream and sour cream into the batter until blended. Pour batter over the prepared cookie crust and smooth top evening out the batter. Bake in 325 oven for 1 hour – don't peek. Turn oven off and let the cheesecake sit in the oven. After 20 minutes or so, with two hot-pads on, loosen the outer ring (don't remove, just loosen), and let it continue to sit in the oven with the oven off for at least 2 hours (4 is better so it's cool). Then remove, cover with plastic wrap, and put in refrigerator overnight.

Serve with your favorite topping of caramel, fruit, or just eat it plain. So-so good.