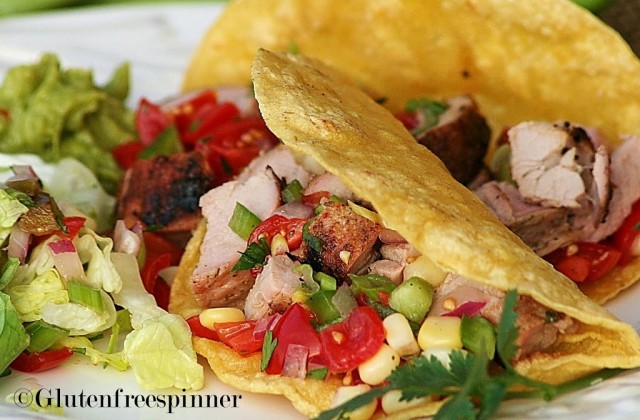 Spicy-Sweet Pork Grilled Taco's
The Summer heat is finally here and tonight we're grilling taco's. The corn tortilla's are quick grilled to a crispy-chewy texture that adds to the authentic taste of this meal. I used pork tenderloin, but chicken would be wonderful too. The spice rub is a combination of smokey chipotle chili powder, herbs and a sweet kiss of brown sugar. The corn salsa

adds a layer of sweet freshness with a citrus lime and Jalapeno punch. Top with guacamole, sour cream, and fresh crisp romaine lettuce.
2 pork tenderloins – sliver skin removed or 6 boneless skinless chicken breasts
Spice Rub:
1/2 tsp onion powder

1/2 tsp garlic powder

2 tsp dried cilantro or 2 Tbsp fresh chopped cilantro

1/2 tsp chipotle chili powder

1/2 tsp cumiin

1 tsp sea salt

1/2 tsp fresh black pepper

1/2 tsp dried oregano

1 Tbsp brown sugar
Olive oil

Corn tortilla's (we like the extra thin)

3 Tbsp canola oil for brushing on corn tortillas
Corn Salsa
Frozen corn – lightly cooked in microwave

Chopped Jalapeno

Chopped tomatoes

Chopped red onion

Chopped fresh cilantro

Juice from lime

Chopped green onion
Guacamole

Sour cream

Chopped romaine lettuce
Combine the spice rub ingredients with a mortar and pestle, grinding together to combine. Sprinkle on both tenderloins (or chicken) and rub into the meat. Sprinkle just enough olive oil over the rub to coat and rub in. Cover with plastic wrap and allow the rub to marinate into the meat in refrigerator for at least 2 hours.
Combine the Corn Salsa ingredients and refrigerate until ready to eat.
Preheat grill on high and reduce to medium high before placing the pork on grates. Cover and cook 7 minutes, turn and cook another 7 minutes. Remove from grill and tent with foil for 10 minutes. While the tenderloin is tented, brush both sides of the corn tortilla's with canola oil and place in a round casserole dish to bring to grill. Grill both sides of tortilla – just until grill marks appear. Remove from grill and replace in dish covering with foil until ready to eat.
Cut the pork into chunky pieces and serve with corn salsa and toppings.