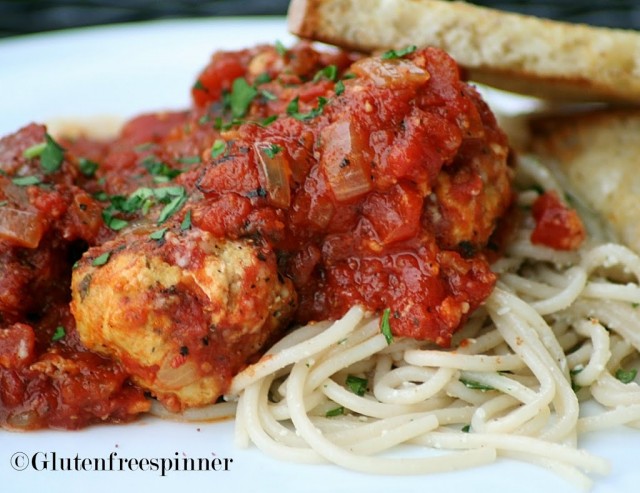 Spaghetti and Meatballs
Fire roasted tomatoes sauteed with garlic and onions and a fresh sprig of rosemary give this sauce a robust flavor. The meatballs are kept healthy with ground turkey breast, carrots, and multigrain bread crumbs. I was inspired to create this light and healthy dinner by a nutritionist's guidelines, and I promise it will satisfy every craving for the traditionally heavy spaghetti and meatballs.
Sauce
1 Tbsp olive oil

1 medium onion – chopped

3 cloves garlic – crushed and minced

3 Tbsp tomato paste

2 – 14 oz cans Muir Glen fire roasted tomatoes

1 tsp dried oregano

1 tsp dried basil

1 tsp sugar

½ tsp Italian seasoning

1 sprig fresh rosemary

1 dash red pepper flakes
Directions
Heat olive oil in large sauté pan and sauté chopped onion until tender. Add the garlic and sauté for one minute. Add the remaining ingredients, cover, and simmer on low.

Meatballs
1 Tbsp olive oil

1 lb ground turkey breast

½ cup finely chopped onion

1 Tbsp Worcestershire

2 large cloves garlic – minced

1 tsp Italian seasoning

2 slices Udi's multigrain gluten free bread, toasted and ground in food processor to make bread crumbs – (or your favorite gluten free bread crumbs)

¼ cup grated parmesan cheese

2 carrots – grated on fine setting

2 Tbsp fresh chopped parsley

1 egg lightly beaten

1 tsp salt

1 tsp fresh black pepper

Tinkyada Pasta Joy Spaghetti Brown Rice Pasta – (the amount is up to you)
Directions
Spray large baking sheet with cooking spray. Preheat oven to 400 degrees.
Saute onion in olive oil on medium low heat until tender. Add garlic, carrots, Worcestershire, and Italian seasoning and saute about 3-4 minutes. Remove from heat and set aside to cool. Put the ground turkey in a large bowl and add the Parmesan cheese, parsley, egg, bread crumbs, salt and pepper. Add the onion mixture. Mix all ingredients with hands to combine, but don't overwork. Roll into 1 ½" balls and place on prepared baking sheet.

Bake for 12-16 minutes or until no longer pink, shaking the baking sheet to turn the meatballs halfway through. Transfer to the pan with the sauce and spoon sauce over meatballs to coat all. Cover. Simmer on lowest setting while you heat a pot of boiling salted water for the noodles. Cook the noodles to package directions, drain and rinse. Toss with olive oil, chopped parsley, and Parmesan cheese.

Serve the meatballs and sauce over the noodles. Toast Udi's multigrain bread and rub a piece of garlic over the toast while still warm. Drizzle with olive oil.