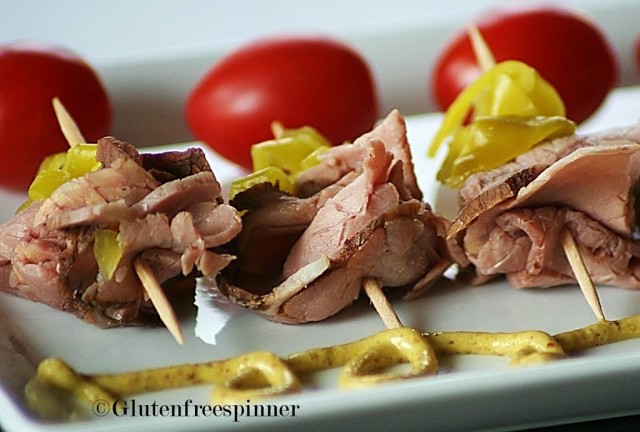 Roast Beef Tapas
"Tapas"… small plates of food served with wine.
Looking for a healthy, satisfying, light snack to serve with wine that's high in protein and low in carbs?  You will love the simplicity of this Tapas dish and the presentation is
beautiful as well.
1 lb of good quality roast beef sliced thin 

Peperoncini slices 

Baby grape tomatoes 

Spicy brown mustard 

Toothpicks
Slice the roast beef into long strips and cut in half making 4″ strips.  Fold the beef and spear onto toothpick.  Next add the Peperoncini slices.  Assemble on long white narrow plate in a row.  Line the tomatoes across the top of dish at the Peperoncini point of the toothpick (you can spear them if you want).  On the other side of the dish just below the toothpick, drizzle a curly strip of hot mustard the entire length of dish. (See picture for help with assembly)  Serve.  Have your guests dip the Tapa into the mustard before eating.  Tasty!