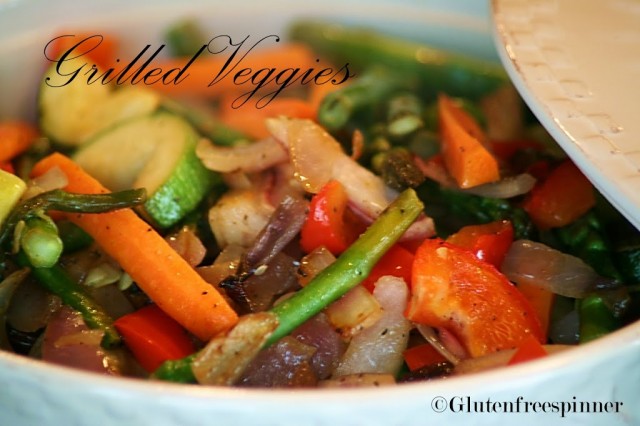 Crisp, fresh, colorful, lightly seasoned, delicious. Yum.
Ingredients
1 bunch Asparagus

1 small Yellow zucchini squash

1 small Green zucchini squash

2 carrots

1 whole red onion

1 red pepper

Prepare the vegetables:
· Rinse all the vegetables in cold water (except onion).
· Cut or snap the ends of asparagus. Cut the spears in half.
· Cut each zucchini in half, remove the small seeds, cut into half moons
· Peel the carrots, cut each carrot into thirds, cut each third into 4 long pieces
· Cut the red onion into ½" wedges
· Take seeds out of red pepper and cut into 1 1/2" pieces

Combine all prepared veggies in a bowl and toss ½ cup Paul Newman's dressing over all. Shake to distribute evenly. I allowed them to marinate in the refrigerator in the dressing for 2 hours. Don't over-saturate the veggies with dressing…it will ruin the flavor and texture.

On a preheated grill, using a vegetable grill bowl (preferred), toss all the veggies and cook on Medium- high for about 15-20 minutes total, checking and tossing in pan every 4 minutes or so. Be sure to sample the veggies while cooking to determine the doneness. Remove from grill when still crisp. The veggies continue to cook as they are removed from heat source. Serve.