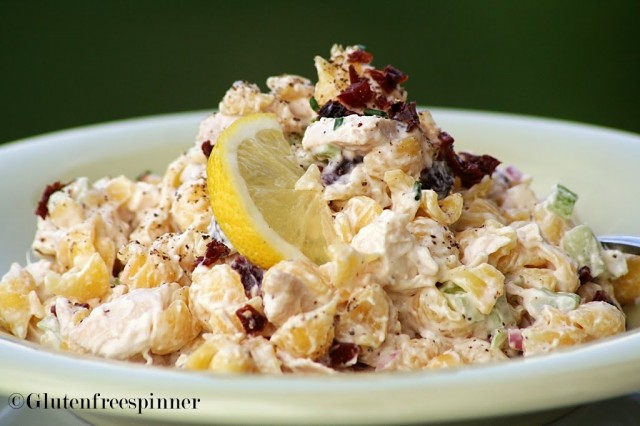 Cherry Chicken Pasta Salad
I tried a new pasta today made with Quinoa, I love to try new options – especially healthy ones! The directions on the package said to avoid overcooking, so I removed them at the specified time. I would cook them a bit longer next time as they were a little chewy.
The inspiration for this salad was a pasta dish brought to a girls weekend by a friend of mine. Her pasta was made with honey mustard salad dressing and sweet red grapes, and it was delicious. That was two years ago, and being this is my first summer as a gluten free girl, it was on my list as a definite makeover.
For the chicken, I purchase a broasted chicken in the deli which makes the preparation so much easier. The flavors in this salad are bright and fresh and the dressing is creamy and light. It's best eaten the same day as it tends to dry out overnight. If you need to make it ahead of time, see the notes at the bottom of recipe.
Ingredients
3 Tbsp chopped red onion

2 cups cooked chicken breast – cut into chunks

3 stalks celery, diced

1/4 cup chopped dried premium tart red cherries

Chopped chives to taste

Cashew halves- optional
Dressing
1 cup Real Mayonnaise (not miracle whip)

1/4 cup Daisy light sour cream

1 1/2 Tbsp Dijon Mustard

2 Tbsp brown sugar

Juice from one whole lemon

1 tsp lemon pepper

1/4 tsp salt

Fresh ground black pepper
Directions
Prepare noodles as instructed on the box (check for doneness to your liking). Drain and rinse in cold water. Pour into large glass bowl and set aside. Add the onion, chicken, celery, cherries, and chives and toss to combine. Prepare the dressing ingredients in a separate bowl and taste for seasoning before adding to noodle mixture. Combine the dressing with the pasta and mix thoroughly. Refrigerate 1 hour, re-toss before serving adding a dusting of fresh black pepper and chives.
Garnish with a lemon slice.
Note: This salad is best eaten the same day, as it tends to dry out overnight. If you need to make it ahead of time, cook the noodles and add just a touch of olive oil to keep them moist and store in an airtight container in refrigerator. You can also prepare the dressing and other ingredients ahead of time and store in separate containers in refrigerator until ready to mix.