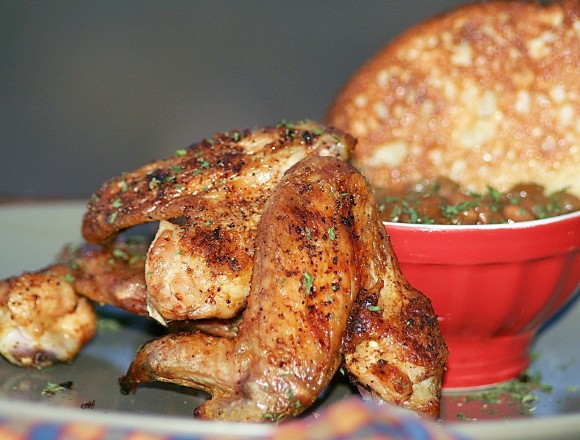 Grilled Chicken Wings
Who doesn't love chicken wings?
Wings are a favorite weeknight meal in our home.  They are crispy, spicy, and full of flavor.  Slow roasting on the grill results in a tender wing that falls off the bone. The credit goes to Mr. Spinner, The Grill Master, and wings are one of his specialties.
We prepare our wings a little different each time, Cajun, BBQ, or a simple country chicken seasoning.  It's the sides we serve with our wings that remain the same.  Kicked-up baked beans, garlic toast, and an ice cold beer…gluten free beer that is.
Ingredients: 
Family pack of wings
Sea Salt and fresh black pepper
Favorite gluten free Cajun seasoning (we love McCormick's Cajun Blend or  Emeril's Original Essence) both are safe
Directions: 
Rub canola oil on grill grates and preheat on high.
Cut the tip off the ends, and we choose to leave the wings whole, but you can separate them into wing/drummy if you prefer.  Pat dry with paper towels until no moisture remains.
On a large sheet pan, season the wings on both sides with sea salt and pepper.  (** Be sure to look at the salt content in your chosen Cajun seasoning and adjust accordingly.)  Next, dust all areas of the wings on both sides with Cajun seasoning.
Reduce preheated grill to medium and place wings directly on grates.  Turn every 7 minutes for 45 minutes to 1 hour.  Remove and allow to rest for 15 minutes before eating.
It's important to check and turn the wings every 7 minutes for two reasons:
Results in an even crispness of the wings.
Prevents the possibility of a grease fire as wings tend to cause flare-ups.