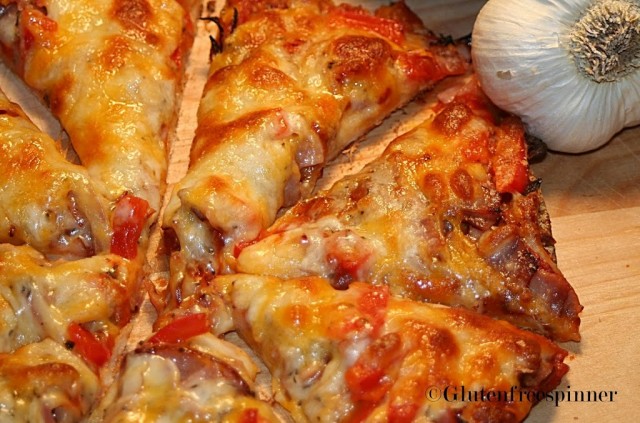 Pizza
Yes, pizza! Once again, thanks to Udi's, we can enjoy the crisp savory cheesy goodness of pizza…and there's no compromise here, it's fabulous. Creating my own pizza dough isn't one of my aspirations, so the convenience and ease of the Udi's crust is a perfect option. My first attempt is a traditional favorite, but the possibilities are endless both for sauces and toppings. Picture a white sauce with chicken and artichokes or an Italian classic with extra virgin olive oil, tomatoes and basil. The recipe below is a delicious start to spinning your spice wheel and creating your favorite.
Udi's Frozen Pizza Crust (2 – 8″ crusts per pkg)

Muir Glen Organic Pizza Sauce (my fav)

1/4 tsp garlic powder

1/4 tsp onion powder

Red Pepper slices

Red Onion slices

Diced Deli ham (check for gluten free)

Shredded Mozzarella and Cheddar mix

Red pepper flakes

Parmesan cheese
Directions:
Preheat oven to 425 degrees
Layer the ingredients as follows:
No need to thaw the crust first. Top with the pizza sauce (about 1/4 cup) and reserve the extra for your next pasta dish. Sprinkle with the garlic and onion powder, top with onions, red pepper, and ham. Cover with the cheese and bake directly on rack for 12 minutes or until the cheese is brown and bubbly. Top with red pepper flakes and Parmesan cheese.