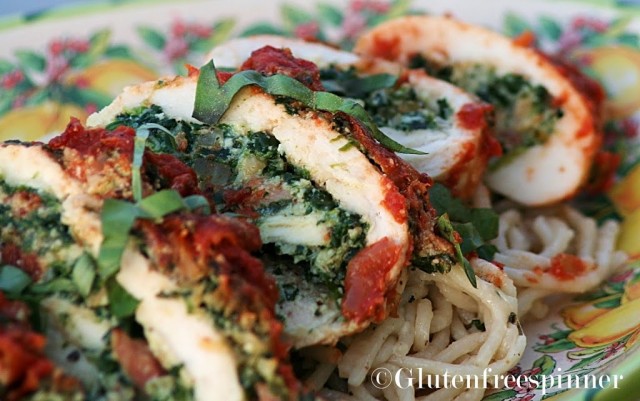 Spinach Stuffed Chicken Breasts
Chicken breasts stuffed with a delicate blend of spinach, ham, and cheesy goodness all
topped off with a zesty tomato sauce and melted cheese. Serve over a bed of thin spaghetti noodles. A glass of Cabernet is a nice accompaniment to the meal.
Ingredients:
1 Tbsp olive oil

1 Tbsp Butter
1/2 cup chopped onion
½ cup good quality natural smoked ham
1 Tbsp minced garlic
8 ounces part skim ricotta cheese
1 – 10 oz package frozen spinach, thawed and squeezed dry
1/2 cup grated Parmesan – divided into two ¼ cup uses
½ cup Shredded Italian five cheese blend – divided
1 egg, lightly beaten
1/4 cup fresh chopped parsley
1/2 teaspoon dried leaf oregano
2 Tbsp fresh chopped basil or 1 tsp dried leaf basil
ground black pepper, to taste
4 boneless chicken breast halves, pounded to ¼ inch thick
1 cup Muir Glen organic pizza sauce
parsley sprigs or basil for garnish, if desired

Tinkyada Pasta Joy Spaghetti noodles
Preparation:
Preheat oven to 350 degrees. Bring a large pot of salted water to a rolling boil for the spaghetti noodles. Cook according to package directions, drain, rinse, return to pan and add olive oil to keep from sticking while keeping warm until ready to eat.
In a medium sauté pan heat the olive oil and butter and cook the Onion and Ham over medium heat until tender, about 4 minutes. Add the garlic and ricotta and cook for another 2 minutes. Remove from heat and pour into a medium size bowl and combine with spinach, ¼ cup Parmesan cheese, ¼ cup Italian cheese, egg, parsley, oregano, basil, and pepper. Mix well.
Pound each chicken breast lightly to flatten evenly until 1/4 " thick. Salt and pepper both sides of the pounded chicken. Distribute the filling evenly between the four breasts and roll up. (If you have extra filling you can spread on top of the rolled breasts before baking.) Spray the bottom of glass baking dish and place chicken rolls seam side down.
Evenly top each rolled breast with the Pizza sauce, then top with remaining shredded cheese and Parmesan cheese.
Bake at 350° for 40 to 45 minutes, or until golden brown and chicken is cooked through. Garnish with chopped basil or parsley.
Serve over thin rice spaghetti noodles.