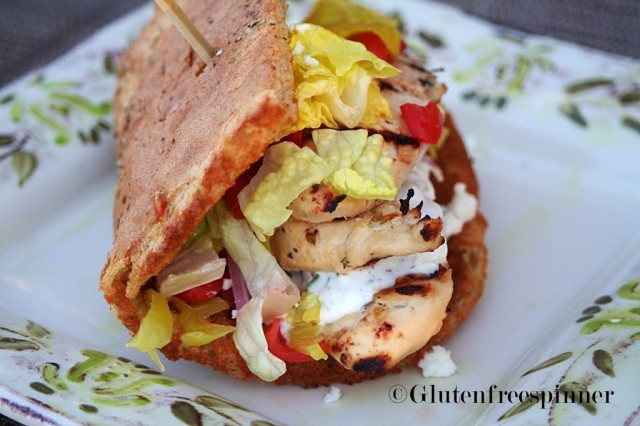 Chicken Souvlaki
Souvlaki is a popular Greek sandwich consisting of grilled meats with vegetable toppings wrapped in a pita bread and topped with Tzatziki sauce.  The flavors are fresh and bright with the zest of tangy lemon and garlic, the smokiness of grilled chicken, and the final drizzle of a creamy cucumber sauce and feta cheese.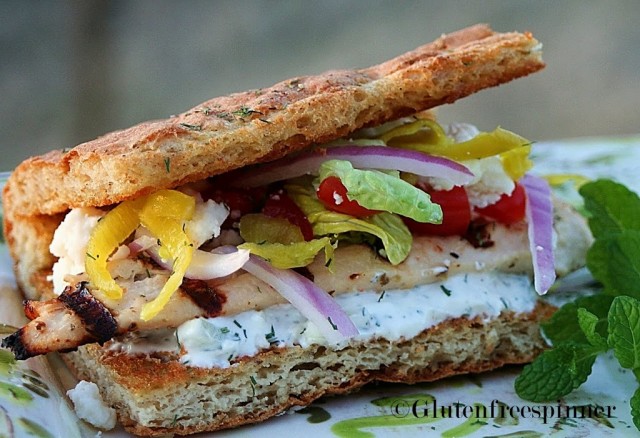 Preparing the Focaccia bread and Tzatziki sauce ahead of time (up to 2 days) will make for a quick
weeknight dinner.  The toppings add a colorful crunch to the classic flavors of this sandwich.
Opah!
Ingredients:
Prepare recipe for
Focaccia Sandwich Bread
and cut into wraps.  Prepare Tzatiki Sauce (follows recipe below – can be made ahead of time).
Marinade:
4 boneless skinless chicken breasts or 12 chicken tenders

 

½ tsp garlic powder 

½ tsp onion powder

 

1 tsp Oregano



Directions:
Place the chicken in a resealable bag.  Combine the marinade ingredients and pour over the chicken in bag.  Move the chicken around to coat and squeeze out excess air and seal.  Refrigerate for at least 1 hour –  or longer if preparing for a later meal.
Remove chicken from refrigerator.  Grease the grill grates with canola oil and Preheat on high.
When grill reaches 350 degrees, reduce heat to medium and place chicken on grates, close the lid.  Set timer for 6 minutes (4 if using chicken tenders)  Turn and set timer another 6 minutes.  Remove from grill and place on plate covered with foil for 5 minutes. 
Slice each breast into strips for the wraps.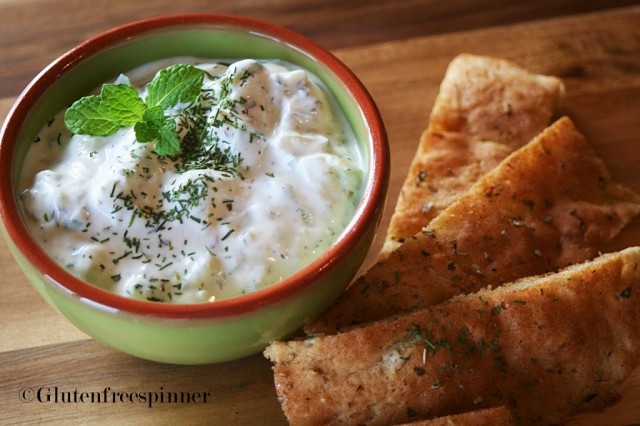 Tzatziki Sauce
1 English cucumber – remove seeds and chop into a very small dice (with peel still on).  Add 1 tsp sea salt and toss.  Let sit 15 minutes and drain and squeeze out excess water with paper towels until no liquid remains.

 

Combine the drained cucumbers with the following ingredients and refrigerate until use.  Time adds to the flavors, yet the sauce will thin considerably.

1 – 7 oz container Greek yogurt (don't substitute) 

¼ cup sour cream 

1 Tbsp olive oil 

1 Tbsp fresh lemon juice 

2 minced cloves of garlic 

1/2 Tbsp oregano 

1 tsp black pepper 

1 tsp rice vinegar 

1 tsp dill weed 

½ tsp greek seasoning 

Grated red onion to taste
Sandwich Toppings
Thin sliced red onion

 

Chopped tomatoes 

Shredded romaine lettuce 

Pepperoncini Slices

 

Feta Cheese