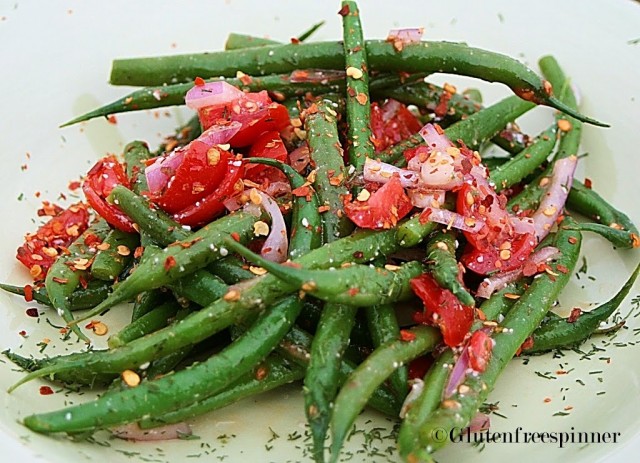 Green Bean Salad
Fresh
Haricot Vert green beans and sweet grape tomatoes tossed with a tangy dressing are the perfect compliment to any sandwich. The fresh taste of summer!
Ingredients:
2 cups fresh green beans (I used Harticourt)

1 dozen grape tomatoes, diced
¼ cup red onion
2 tsp Seeds of Change organic Greek Feta Vinaigrette
3 Tbsp olive oil
¼ lemon squeezed
1/4 tsp Dill weed (2 Tsp if fresh)
½ tsp fresh ground black pepper
1 Tbsp grated Parmesan cheese
½ tsp sea salt
Red Pepper flakes to taste

With a vegetable steamer, steam the green beans in ½ inches of boiling water (covered) for 3-4 minutes or until tender but still crisp. Instantly transfer beans to a large bowl of ice water to shock and stop the cooking.
In a large glass bowl add the cooled beans and remaining ingredients and toss to combine. Taste for seasonings and serve.
Warm vegetable side dish option: Prepare as directed above skipping the ice water shock. After steaming the beans, saute in large skillet with ingredients listed for 2 minutes on med-high and serve warm as a vegetable side dish.