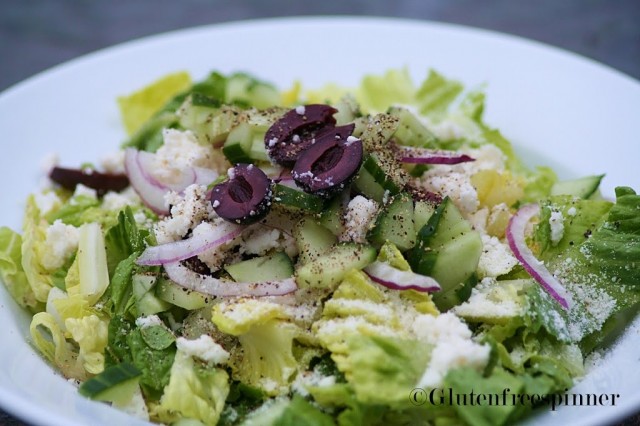 Greek Salad
I crave this salad and often bring it for lunch as it travels well and always delivers. The classic taste of tangy feta cheese and salty kalamata olives pairs well with the fresh crunch of English cucumbers and sweet-hot red onions. The store-bought dressing, Seeds of Change Greek Feta Vinaigrette, got it right with a touch of sweetness to the rich Greek flavors of oregano, garlic, and feta.

I have also listed a homemade dressing if you can't find the store bought. Hint: if you or a family member isn't a fan of feta cheese, you can substitute the Mexican cheese called Queso Fresco as it crumbles the same yet is milder in flavor. I also listed a quick recipe for gluten free croutons below.
Ingredients
1 head of Romaine lettuce – rinsed and dried then torn into bite-sized pieces.

1/4 cup red onion -sliced very thin

1/2 cup English cucumbers, seeded, chopped (about a 1/2 cucumber)

1/3 cup Kalamata olives, pitted, halved

1/2 cup Feta cheese crumbles

Fresh ground black pepper

3 Tbsp Grated Parmesan cheese

Chopped tomatoes (optional)

Seeds of Change Greek Feta Vinaigrette Dressing (Or make the dressing listed below.)

Gluten Free Croutons (Recipe listed below.)
Directions
Combine all ingredients and add the dressing a little at a time tossing to coat. Don't over dress the salad, it should be crispy not soggy. Top with a final sprinkle of Parmesan and fresh black pepper.
Homemade Greek Feta Dressing
Whisk (or put in small food processor) the following ingredients together until well combined. Refrigerate.
¼ cup olive oil

1 Tbsp fresh lemon juice

½ tsp garlic powder

½ tsp onion powder

½ tsp dried oregano

¼ tsp dried thyme

½ tsp dried basil

½ tsp fresh ground black pepper

½ tsp sea salt

1 Tbsp Dijon Mustard

1 tsp honey

2 Tbsp rice vinegar (milder) or red wine vinegar

2 Tbsp crumbled feta cheese
Easy – Homemade Gluten Free Croutons
Croutons are optional, just be sure they are gluten free. Many of the purchased gluten free croutons are extremely hard and lack flavor. You can easily make your own from gluten free Bread.
Ingredients you'll need:
Gluten free Bread (I like Udi's multigrain)

Olive oil

Garlic powder

Grated Parmesan

Fresh black pepper

Sea salt
Directions
Toast the bread to a nice golden brown. Cut the toast into cubes and put in a microwave safe glass bowl. Depending on how many pieces of toast and the number of croutons needed, adjust the following to taste: Toss with a little olive oil, garlic powder, Parmesan cheese, fresh black pepper, and sea salt. Toss around the bowl to coat, not too much as you want them crisp, but enough to give flavor. Microwave on high at 30 second intervals, tossing and repeating for about 1-3 minutes depending on number of croutons. Set aside to cool.