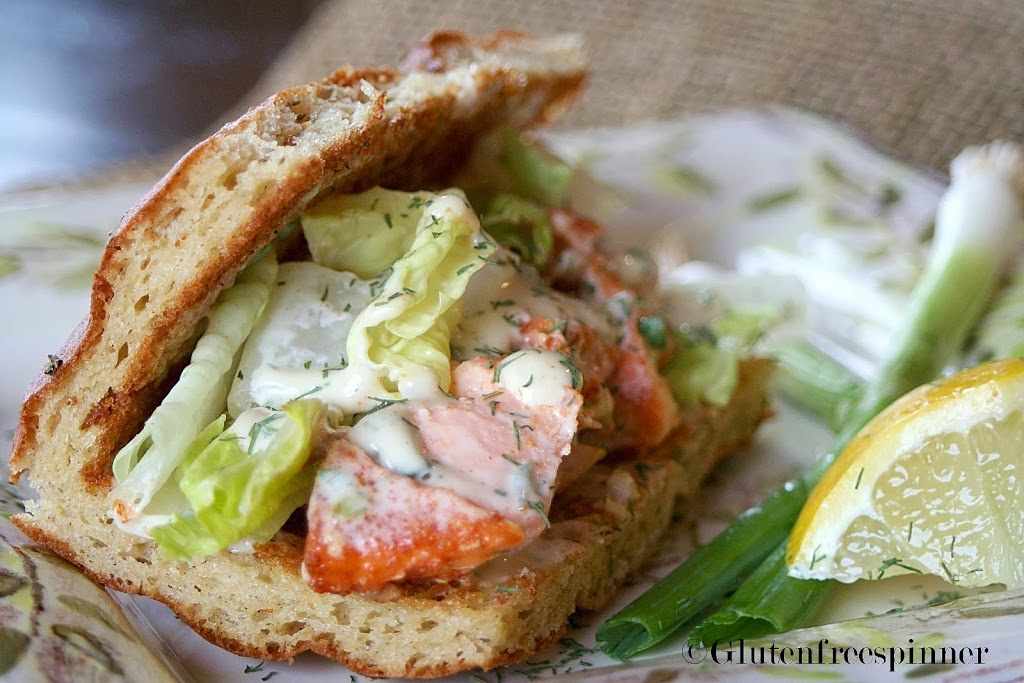 Focaccia Sandwich with Salmon and Dill Sauce
One of the first things you learn when going gluten free is the lack of choices when it comes to bread. I traveled 35 miles to a gluten free bakery to purchase an $8.00 loaf of bread, only to be disappointed by the spongy consistency and lack of flavor. It was
inedible and found it's place in the trash. As I continued my search and tried several others I learned that if I wanted a sandwich (that wasn't toasted), I needed to bake my own bread. I'm not a baker. I love to cook…but I don't like to bake.
So the research began. I relied on the many gluten free sites and blogs to learn the various flours, starches, leavening agents, and yeasts needed to create one loaf of gluten free bread. After spending a small fortune re-stocking my pantry, I began my mission.
My third loaf of bread was beautiful to look at. I took pictures to show off my newly baked creation and detailed the recipe preparing to post. But when I tasted the bread, it lacked flavor and texture, and the second day it crumbled into pieces just cutting. Another failure. Finally, after a few more attempts and finding many base recipes and baking methods, I found this recipe on another gluten free blogger's site, Gluten Free Gobsmacked, who found the recipe on
DelphiForums Celiac Group who posted the original recipe from the book
GF 135 Recipes by Washburn. Whew! Kudos to the originators, we all add our own spin, but the original recipe deserves the recognition.
I'm thrilled to report that I also love this recipe, it delivers a soft, flavorful, versatile bread that is simply delicious. The dough is a batter consistency rather than the traditional mound of rising dough, and it's poured onto a baking sheet and cut into slices. The golden brown outer crust holds it's texture and the inside stays soft and moist. It may not be the thick-sliced bread of times past, it may just be better.
I added my spin to the recipe with herbs, final preps, and serving options, and it's consistently a great recipe.
Garlic Herb Focaccia Bread Recipe
Ingredients:
1 cup sweet white sorghum flour

1/2 cup tapioca starch

2 teaspoons xanthan gum

1 Tbsp Rapid Rise yeast

½ tsp salt

½ tsp garlic powder

½ tsp onion powder

½ tsp Italian seasoning

1 cup water

2 Tbsp Organic Blue Agave (can substitute sugar – add with dry)

1 tsp cider vinegar

2 Tbsp Olive Oil (additional 2 Tbsp for pan)

2 eggs

Dusting of Italian seasoning and sea salt for top
Directions
Mix together all dry ingredients (Sorghum flour, tapioca starch, xanthan gum, yeast and spices) and set aside.

Whisk together wet ingredients (water, Agave, vinegar, oil, and eggs). With an electric mixer, slowly beat the dry ingredients into the wet until blended. Beat on medium/high for 3 minutes being sure to combine all ingredients while beating.

Generously grease a large baking sheet (with sides) with the 2 Tbsp olive oil. It will seem too much, but it's needed for browning, removing, and flavor. Pour batter onto the oiled pan and gently spread with a rubber spatula until it covers the entire pan ensuring the batter is evenly distributed. Sprinkle 1 tsp Italian seasoning over top and lightly sprinkle sea salt. Poke a fork into the dough over entire surface creating little puncture holes.

Place the dough in a warm spot and allow to rise for 35-40 minutes. (Being my house was fairly chilly, I preheated the oven to 150 degrees, turned off, and placed the dough to rise. Be sure to remove from oven after the 35-40 minutes before preheating to bake.)

Once the dough has rested, preheat oven to 400 degrees.
Bake for 12-15 minutes or until the top is browned. Be careful not to remove too soon as the middle will be doughy. You will notice a nicely browned crust on top and edges. Allow the bread to cool 25-30 minutes before removing from pan. It will become flexible and soft. (I made this ahead of time and allowed it to sit for 4 hours in the pan before slicing and it was fabulous.)

To serve, cut into 6-8 large squares to use as a folded sandwich bread. Great used for Gyro's too. You can also cut into 4×4 squares, lightly dust with olive oil and Parmesan and return to 400 degree oven for 5-7 minutes until crispy for a crunchy garlic toast with a salad or meal.
For the Salmon Sandwich above:
Ingredients:
Grilled Salmon

(use one of the many salmon recipes under fish and seafood)

Romaine Lettuce

Dill Sauce

1/2 cup Mayonnaise (not miracle whip)

1 Tbsp Dijon mustard

2 green onions chopped (green only)

1 tsp fresh lemon juice

1 tsp Worcestershire Sauce

1/4 tsp Old Bay seasoning

Pinch of dill

1 tsp honey
Assemble one piece of Focaccia Bread with flaked grilled salmon, romaine lettuce, and 2 Tbsp of the dill sauce. Fold and enjoy.