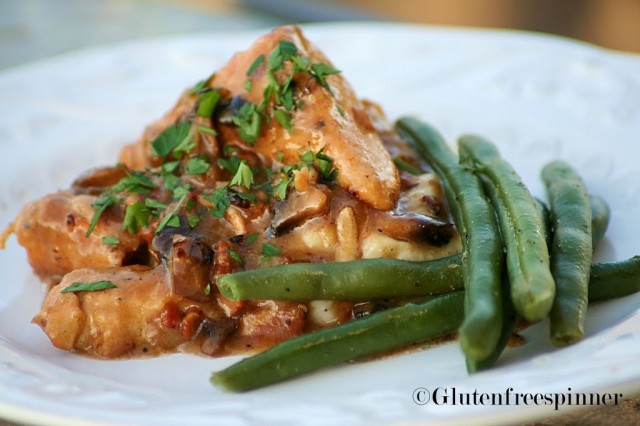 Chicken Marsala
I was first introduced to Chicken Marsala through a friend of mine who served it for a Christmas Party. She made a fabulous choice in choosing this for the entree because it satisfied every palate; comfort food meets fine dining. There are many variations of this classic Italian dish, but the Marsala wine adds a distinct flavor and should never be substituted. In my version, I added onions and bacon which adds to the richness of the gravy, and I season the chicken prior to cooking for another level of flavor.
Being that my husband isn't a fan of mushrooms, I chop them into small pieces which allows them to meld into the bacon and onions adding the needed flavor. If you love mushrooms, there's no need to chop them. Another change I made to the classic recipe is using white rice flour, which not only is gluten free, but is finer in texture and makes an incredibly light coating. As for sides, I always serve Chicken Marsala with mashed potatoes and fresh green beans. The presentation is beautiful and the flavors elegant.
4 slices all natural thick cut smokey bacon – cut into small pieces

3 large boneless skinless chicken breasts – cut into thirds

1 tsp sea salt

1 tsp pepper

1 tsp Italian seasoning

1 tsp garlic powder

1 tsp onion powder

1/3 cup white rice flour

2 Tbsp olive oil – divided

1 Tbsp butter

1 small onion – diced

1 cup white button mushrooms – chopped

2 Tbsp minced fresh garlic

½ cup sweet Marsala wine

½ cup chicken broth

Juice from ½ fresh lemon

½ cup heavy cream

Chopped fresh parsley
Directions
Heat oven to 325 degrees
In a large cast iron Dutch oven, fry the bacon pieces until crisp. Remove from pan and set aside. Add 1 Tbsp olive oil to the pan with drippings.

Combine the salt, pepper, Italian seasoning, garlic powder, and onion powder and season the chicken. Dredge the breasts in the white rice flour, both sides, and add to the hot oil in the pan. On medium-high setting, sear the chicken on both sides until lightly browned. When all pieces are browned remove from pan and set aside.

To the same pan, add the other 1 Tbsp olive oil and 1 Tbsp butter and sauté the mushrooms and onions for about 3-4 minutes until tender. Add the minced garlic and cook another 1 minute. Add the Marsala wine and allow to bubble and cook for 1 minute, then add the chicken broth and lemon juice and simmer for 5 minutes. Add the heavy cream and stir to combine. Add the chicken and bacon back to pan and coat the chicken with the sauce and remove from heat. Cover.

Bake, covered, in preheated 325 degree oven for 35-40 minutes. Before serving, top with chopped fresh parsley and serve with mashed potatoes and fresh steamed green beans.
Tip: If you are holding a dinner party and want prepare this ahead of time, you can change the temperature to 250 and bake for an hour (or longer if needed). I made this for a progressive dinner (which never runs on-time) and it was in the oven for 3 hours at 250….it was fabulous. You can prepare "make-ahead" mashed potatoes (Google recipes) and the beans take only minutes. It's a winner.