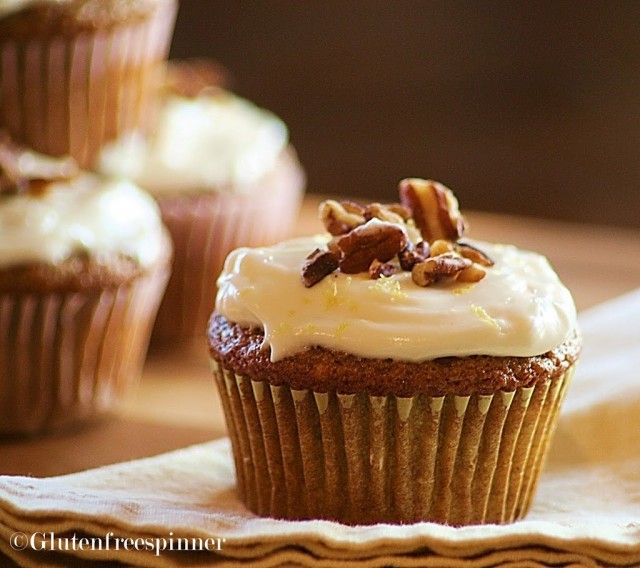 Carrot Cupcakes with Lemon Cream Cheese Frosting
These cupcakes are kept moist with pureed pears and shredded carrots while the blend of cinnamon and nutmeg adds a unique spice-cake flavor. Top it off with lemon cream cheese frosting for a sweet creamy finish.

Ingredients:
¼ cup canola oil

¾ cup packed light brown sugar

2 large eggs

1 – 8.2 oz can of pear halves – blended in food processor

½ vanilla bean (preferred) or 1 tsp vanilla extract

2 carrots grated on the fine setting of grater
Dry Ingredients
1 cup gluten free all purpose baking mix (prefer Pamela's)

½ cup sweet white sorghum flour

1 tsp baking soda

½ tsp ground cinnamon

¼ tsp ground nutmeg
Directions
Preheat oven to 350 degrees.
Combine oil, brown sugar, eggs, blended pear halves, vanilla bean (extract) and whisk until combined. Add the carrots and combine into the mixture.
Blend the dry ingredients and stir into the pear mixture just until combined. Pour equally into 12 muffin cups with paper liners. Bake 18 minutes or until toothpick comes out clean. Cool on wire rack and frost with cream cheese frosting. Store in refrigerator.

Frosting
4 oz reduced fat cream cheese (Neufchatel), softened
2 Tbsp butter, softened
½ tsp vanilla extract
1 tsp lemon juice
½ tsp lemon zest
1 cup powdered sugar

Mix all ingredients until creamy and frost cupcakes. Top with chopped Pecans.