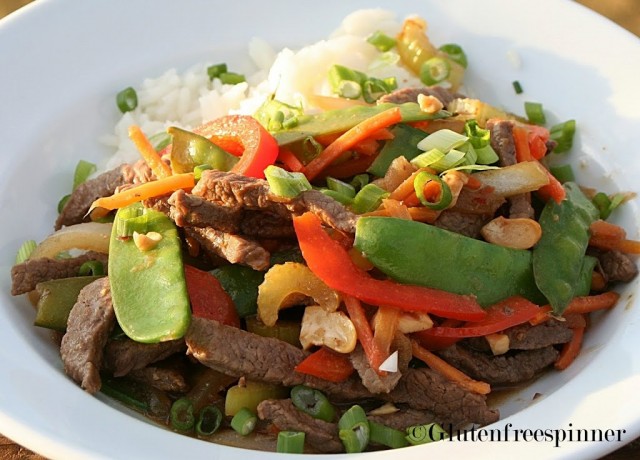 Beef Stir Fry
Ingredients:
2 Tbsp sesame oil (divided)

2 Tbsp Olive oil (divided)
2 garlic cloves – minced
Sea salt and black pepper
1 1/2 lbs thin sliced sirloin cut into strips
2 tsp Urban Accents Asian pepper market seasoning
3/4 cup Onion – sliced into thin strips
½ Red Bell Pepper, julienned
3/4 cup Matchstick Carrots
3/4 cup diced Celery
1/2 cup Pea Pods
¼ cup San-J gluten free teriyaki sauce
2 Tbsp San-J gluten free Szechuan sauce
1/4 cup cashew halves
Green onions

White or brown rice – cooked and set aside
Directions:
Prepare the beef strips and season with salt and pepper.
Heat 1Tbsp sesame oil and 1 Tbsp olive oil in a large sauté pan over medium heat. Add the garlic and stir so as not to burn (30 seconds). Add the beef strips to the pan and sprinkle the 2 tsp Urban Accents seasoning over all. Sauce the beef until browned but slightly pink inside (about 4-5 minutes). Remove from pan and set aside.
Heat the other 1 Tbsp sesame oil and 1 Tbsp olive oil in sauté pan over high heat. Add the onions, celery, red peppers, carrots, and peapods and stir fry for 2 min while tossing to ensure even cooking. Add the teriyaki and Szechuan sauces and stir fry until the vegetables become tender but are still crisp.
Return the beef to pan along with cashew halves and toss to combine about 2-3 minutes longer or until heated through. Serve immediately over rice. Garnish with chopped green onions. If you like it extra spicy, add a dash of Szechwan sauce to your plated serving.