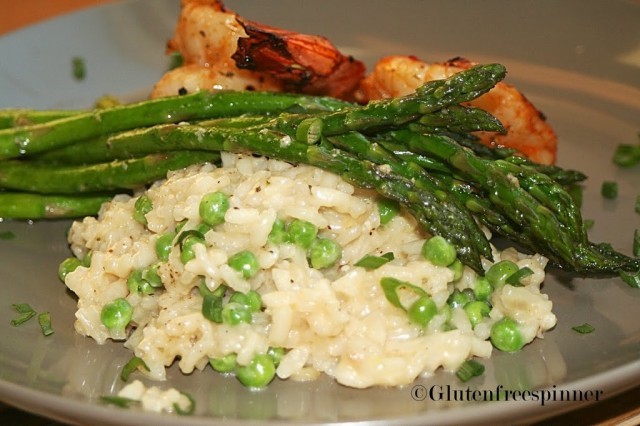 Risotto with Sweet Baby Peas
Ingredients:
3 cups organic gluten free chicken broth

2 Tbsp olive oil

2 shallots, diced

3/4 cup Arborio Rice

1/4 cup dry white wine

Sea salt to taste

Freshly ground black pepper

1 1/2 Tbsp copped chives or green onions – divided

2 Tbsp butter

1/3 cup freshly grated Parmesan cheese

1/2 cup frozen sweet baby peas
Directions:
In a medium saucepan, warm the broth over low heat and keep warm on back burner.
Add 2 Tbsp olive oil to skillet and stir in the shallots. Cook 1 minute and add the rice. Stir to coat with the oil and shallots and continue cooking until the rice is lightly toasted to a pale golden color. Next, pour in the wine and allow to be fully absorbed into the rice. Add 1/2 cup of the chicken broth to the rice and stir until absorbed. Continue adding broth 1/2 cup at a time, stirring continuously until the liquid is absorbed and the rice is al dente, about 18-22 minutes.
Remove from heat and stir in butter, chives, frozen peas and Parmesan cheese. Season with salt and pepper to taste. If it seems to thick, add 1 Tbsp of cream (or milk) and stir. Garnish with dusting of black pepper and chives/green onions. Serve immediately.