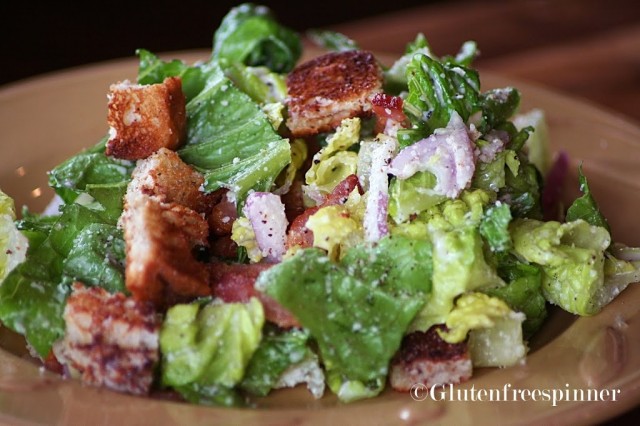 Caesar Salad
My kicked-up Caesar salad is consistently a winner, whether we make it our main dish by adding grilled chicken or serve it as a first course, it never disappoints. It's a classic recipe with the addition of two high-flavor ingredients that make this salad one you'll often refer back to.
It's easy and fast with the convenience of a great bottled dressing that is also gluten free. I love Parmesan cheese, so much so that I eat chunks of it for a snack. The measurements below are tailored to a 'normal' person's taste for Parmesan, but I add several dustings of it until the salad screams, Splendido!
Ingredients:
1 head of Romaine Lettuce (preferably organic)

8 slices of uncured bacon (or ham)

1/4 cup red onion – sliced as thin as you can get it and again in half (to make slivers)

1/4 cup freshly shredded Parmesan cheese

4 Tbsp grated Parmesan cheese (or more to taste)

Gluten Free croutons (recipe follows)

Fresh cracked black pepper

Cardini's Ceasar Salad Dressing
Directions:
Fry the bacon (or ham) to a crisp golden brown and drain on paper towel and set aside.
Next, wash the Romaine lettuce well and spin dry with a salad spinner until no longer wet to the touch (or dry the leaves on paper towels). I do this the day ahead and put in zip-lock bag with paper towels. Fast and easy.
Combine the Romaine, red onion, Parmesan cheeses, fresh cracked pepper, cooled bacon (ham), and croutons until well blended. Toss in the dressing to taste (start with a little…you can easily ruin the salad by over-saturating with dressing) less is best in this salad. Sprinkle with more Parm and finish with more fresh black pepper. Serve immediately with Garlic Toast on the side (I prefer Udi's bread toasted with garlic salt).
Easy Gluten-Free Croutons
Depending on how many croutons you like on your Caesar will determine how many slices of the bread you will use. I used 4 slices for the salad above. This recipe was created as a quick method for gluten free croutons as every brand I've purchased are inedible. This was fast and we thought delicious, but if you are not a fan of microwave ovens, use a conventional oven instead.
Ingredients:
4 Slices Udi's brand whole grain bread

1 Tbsp Olive oil

1/2 tsp Garlic salt

1 Tbsp Parmesan Cheese

1 tsp fresh black pepper
Directions:
Toast the slices of bread in toaster until golden brown. Cut the slices into crouton cubes and put on dinner sized plate to ensure they aren't overlapping each other. Microwave in 30 second intervals, shaking the plate to toss them with each check. When they are toasted to your desired crispness, remove from microwave and transfer to a small glass bowl. Toss the remaining ingredients over the croutons until evenly coated.