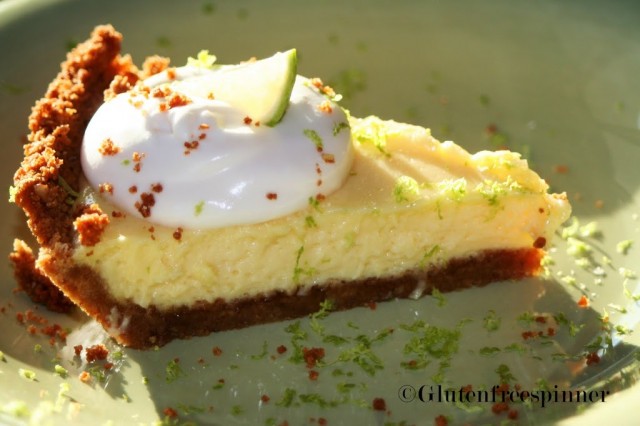 4 Tbsp butter, melted

2 Tbsp sugar (can omit if you prefer not as sweet)
Preheat oven to 350 degrees
Blend the cookies in food processor until evenly ground into crumbs. Combine cookie crumbs, melted butter and sugar with a fork until well blended and press into 9″ pie plate that has been sprayed with non-stick spray. Bake for 8-10 minutes in 350 oven until golden brown. Remove and set aside to cool.
1 – 14 oz can sweetened condensed milk

2 egg yolks

1 whole egg

1/2 cup key lime juice or the juice of limes to equal
Blend condensed milk and lime juice until combined. Add the eggs and beat for 2-3 minutes. Pour into prepared crust and bake 350 for 15 minutes.
Cool and refrigerate at least 2 hours. Serve with fresh whipped cream.
Try this variation: I made the same recipe above for Easter with two changes – the crust and topping. For the crust, use Pamela's Simplebites chocolate chip mini cookies (omit the sugar in recipe) and follow as written. I topped the pie with whipped cream, strawberries, and blueberries. Oh Joy! It was quoted, "The Best Ever!"