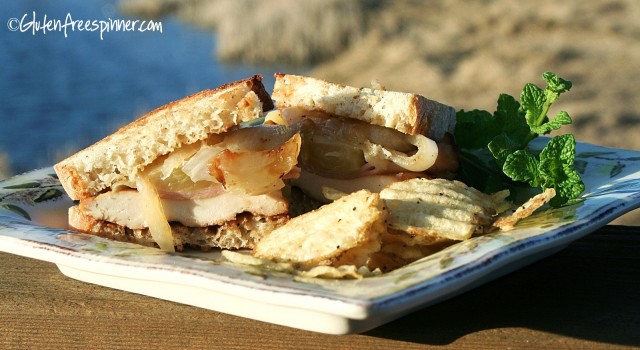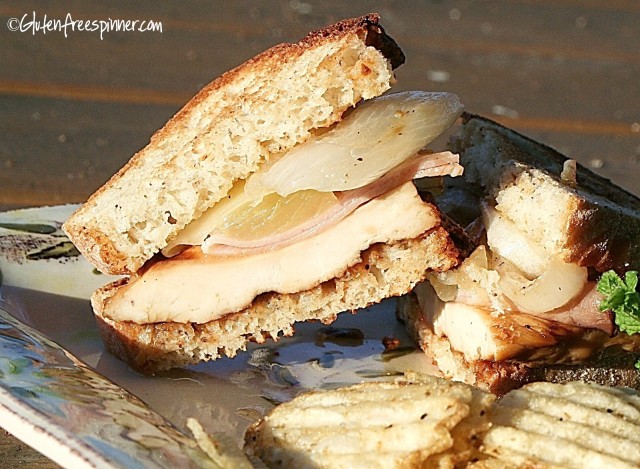 Hawaiian Chicken Sandwich
It's another beautiful Sunday afternoon and the pond is open revealing the crystal blue water that takes on this hue only in the Spring as it shimmers against the brown field grasses.  The guys are trimming trees and hauling rocks and have requested a favorite summer sandwich for dinner.  Hawaiian Chicken Sandwiches, a blend of Teriyaki chicken, thin slices of grilled deli ham and sweet grilled pineapple rings all smothered in melted Swiss cheese and sauteed onions.  Finally, a dip into sweet tangy BBQ sauce.  Aloha!
Pound each chicken breast to 1/2 " thickness and put all 4 into a resealable bag.  Pour the Teriyaki sauce into the bag, squeeze out air, and seal.  Move the chicken around in bag to ensure they are all coated with sauce.  Return to refrigerator and allow to marinate for at least 4 hours.
Using non-stick spray or olive oil, lightly oil the grates of grill and preheat on med-high.  Reduce to medium and grill the breasts 4-6 minutes on each side until lightly browned.  They are thin so they'll cook fast.  With the second turn of the chicken, grill the four pineapple rings and the 4 slices of ham – just until grate marks show and they are warmed.
While still on the grill and fully cooked, turn off grill and first lay 1 slice of ham on top of the chicken breast, then 1 pineapple ring,  and finally 1 slice of cheese.  Close the lid and allow cheese to melt.  Remove from grill and cover with foil.
Toast 8 slices of your favorite gluten free multigrain bread and lightly butter.  Lay one loaded chicken breast on a slice of toast, top with the sauteed onions and place the second piece of toast on top to create the sandwich.  Repeat with remaining to make 4 sandwiches.  Slice on diagonal and serve with the BBQ sauce on the side for dipping.  We also serve Trader Joe's Ridge Cut Salt and Pepper Chips.