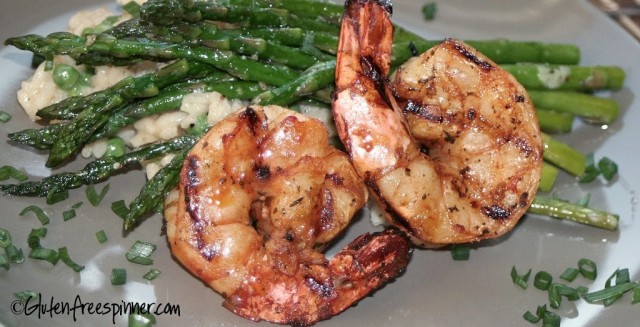 Grilled Prawns with Risotto and
Roasted Asparagus
This decadent dish packs a flavor punch with smokey-sweet grilled prawns on a bed of creamy nutty risotto laced with sweet baby peas and a side of crisp roasted asparagus.
Grilled Shrimp/Prawns
Ingredients:
6 prawns (6-8 count)

1 Tbsp fresh minced garlic

1 tsp smoked Paprika (not regular)

1 tsp Italian seasoning

1 Tbsp fresh lemon juice

3 Tbsp olive oil

1/2 tsp fresh ground black pepper

1 tsp dried basil leaves

2 tsp brown sugar
Directions:
Rinse prawns and pat dry on paper towels. Combine the remaining ingredients in medium glass bowl and toss the shrimp into bowl coating all prawns with the marinade. Cover and refrigerate 2 hours.
Preheat grill to medium-high heat. Once preheated, set dial to medium and place prawns on lightly oiled grate. Grill 3 minutes per side and remove to platter. Serve immediately with risotto and roasted asparagus .