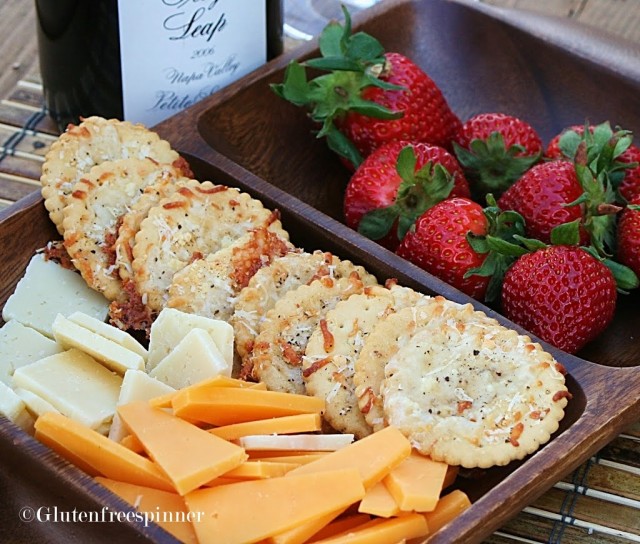 I have been searching the shelves of my local grocery stores, natural food stores, coop's, and even the web for an edible gluten free cracker to enjoy with cheese and wine. The only cracker I can find is either a rice cracker or a starchy bland cardboard one.
During my search I found a cracker by Glutino that is the closest to a 'normal' cracker I

could find. They come in four flavors; original, cheddar, vegetable, and multigrain. These crackers are pretty good, but what I really wanted was a 'Parmesan crisp' sort of cracker that I could enjoy by itself or with a nutty sharp cheese.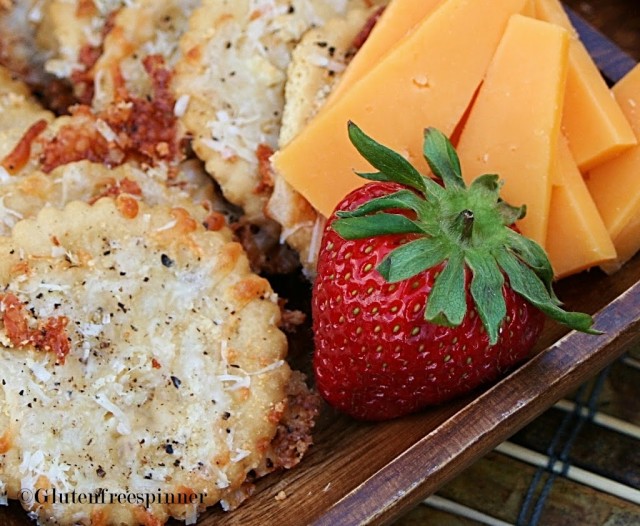 Well, the search is over…my Parmesan Crackers are a promising combination of salty, flaky, savory crisp goodness and they are easily made in just minutes. So when I was asked by a friend , "Where did you get these crackers?", I knew it was time to share them with you.
1 pkg Glutino Gluten Free Crackers – Original Flavor

1/4 cup Kraft Natural Shredded Italian Five Cheese Blend Cheese

2-3 Tbsp grated Parmesan Cheese

Olive Oil

Fresh ground black pepper
Directions:
Preheat oven to 400 degrees
Remove one of the two packages of crackers that come in the box of Glutino Crackers. Arrange the crackers in a single layer on a baking sheet that has been sprayed lightly with cooking spray. Top each cracker with the shredded Italian cheese blend (not too much or they'll get soggy). Next top with the Parmesan cheese. Sprinkle olive oil over the top of all crackers just enough to give a little drop on each. Finally, top with fresh ground black pepper to taste.
Place in preheated oven for 4-5 minutes watching constantly until golden brown. They brown quickly due to the cheeses, so remove when they are crisp and browned. Let cool for about 2-3 minutes before removing from pan. Enjoy!!!