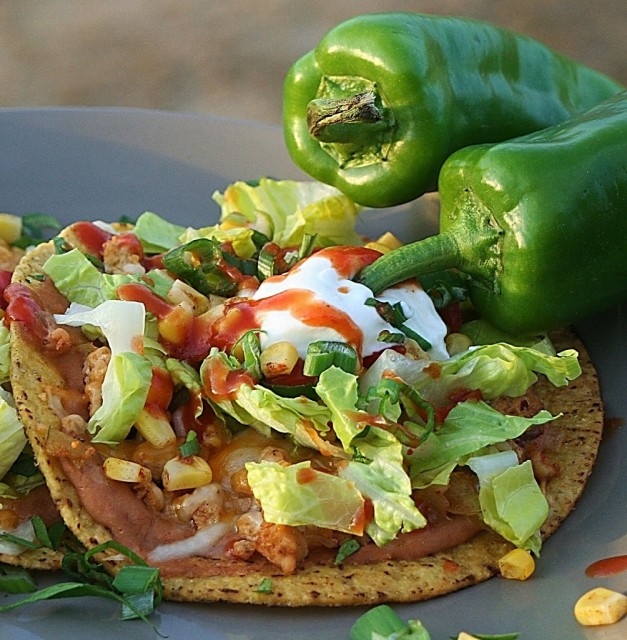 Tostada's
A light healthy easy dinner made with ground turkey and all the fixin's. Another one of our favorites.
Ingredients:
1- 5 oz pkg Los Pericos Tostadas – 10 count

1- 1.25 lb pkg Jennie-o ground turkey breast

1 medium onion, chopped

2 Tbsp olive oil

3 Tbsp plus 1 tsp Emeril Southwest Seasoning, divided (2 Tbsp for turkey, 1 Tbsp for re-fried beans, and 1 tsp for salsa)

1 Tbsp Urban Accents Mesa Rosa Chipotle Southwest blend (if you can't find, just use a chipotle chili powder)

1 tsp sea salt

1-4oz can diced green chili's – divided in half

1-16 oz can re-fried beans

1- 8 oz pkg shredded Mexican cheese blend (plus more for fixin's)

chopped lettuce for topping

favorite gluten free hot sauce or salsa
Corn salsa
Combine all ingredients and set aside
1 cup frozen corn, cooked and cooled

1/4 cup chopped green onions

1 tsp chopped fresh Cilantro

1/4 cup chopped tomatoes

juice from 1/2 lime

1 tsp Emeril Southwest seasoning
In a large skillet over med heat add the olive oil and the ground turkey breast. Break-up the turkey and brown for 3-4 minutes while adding the chopped onions, 2 Tbsp Emeril Southwest seasoning, chipotle blend, sea salt, and 1/2 can of diced green chili's. Continue cooking until the turkey is no longer pink and the onions are tender.

In a small sauce pan add the re-fried beans, 1/4 cup cheese, the remaining 1/2 can green chili's, and 1 tsp Emeril Southwest. cook on medium just until warmed through.

Preheat oven to 400 degrees.
Place the tostada shells separately on two large baking sheet pans. Top each with first the re-fried beans, spreading over entire surface of the tostada – not too thick as they will get mushy (use about 3 Tbsp on each). Next, top with about 3 Tbsp of the turkey mixture, then top with cheese. Bake in 400 degree oven for 6-8 minutes or until cheese is melted.

To serve, top each with chopped lettuce, the corn salsa, sour cream, and hot sauce of your choice. No sides are needed for this one…..except of course, a margarita.