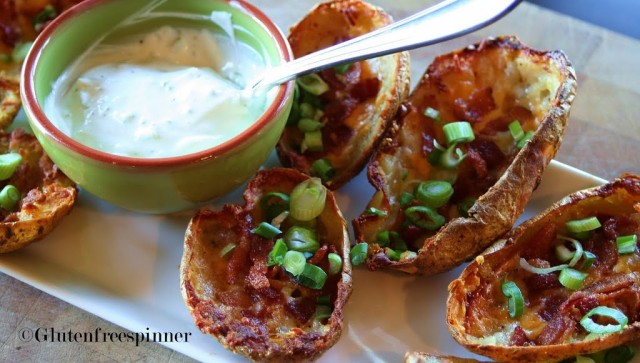 Crispy Loaded Potato Skins
I think I finally perfected my loaded potato skins!
Savor this…crisp crunchy twice-baked skins with the saltiness of bacon and a fresh bite

of green onions topped off with a dollop of seasoned sour cream. Irresistible

5-6

small to medium russet baking potatoes, scrubbed well

3 Tbsp Olive Oil

3 Tbsp grated Parmesan Cheese

1/2 tsp salt

1/2 tsp garlic powder

1/4 tsp paprika

1/2 tsp fresh black pepper

1/2 lb uncured bacon, cut into 1/2″ julienne pieces and fried to a crisp

1 cup shredded cheddar/mozzarella mix cheese

2-3 Tbsp sliced green onions
Seasoned sour cream: (combine all ingredients in small ramekin)
1/2 cup sour cream

1 Tbsp chopped green onions

1/4 tsp seasoned salt

1/8 tsp favorite gluten free BBQ sauce

1/2 Tbsp Cardini's Parmesan/Ranch dressing
Directions:
Scrub potatoes well and remove any eyes. Bake in 375 oven for an hour or until you can pierce easily with a fork. Meanwhile, cook the bacon until crisp and drain on paper towels. When the potatoes are cool enough to handle, cut them in half lengthwise and scoop out most of the pulp. (I use the pulp for mashed potatoes.) Spray a baking sheet with cooking spray and arrange potato skins on sheet. In a small bowl, combine the oil, Parmesan, salt, garlic powder, paprika and pepper and with a pastry brush coat the skins inside and out (both sides) and replace on baking sheet. Bake at 475 degrees for 8 minutes and flip skins to cook otherside another 8 minutes or until crisp and golden brown. Remove from oven and fill the inside of skins with the cheese and bacon. Return to oven for 5 minutes or until cheese is bubbly and browned. Sprinkle with sliced green onions and serve with a side of seasoned sour cream.