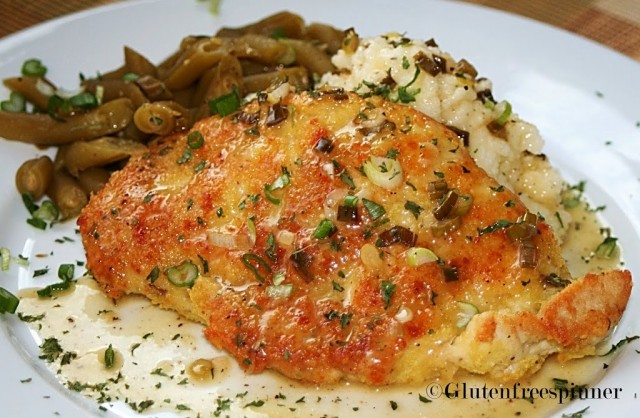 Ingredients:
2 split boneless, skinless, chicken breasts
½ tsp garlic powder
½ tsp onion powder
½ tsp Sea salt
½ tsp fresh ground black pepper
½ tsp Italian seasoning
½ cup GF white rice flour
1 beaten egg and 1 Tbsp water (combined)
¾ cup gluten free bread crumbs
¼ cup grated Parmesan cheese
Olive oil
4 Tbsp butter, room temp
2 Tbsp lemon juice
1/4 cup dry white wine
¼ cup organic gluten free chicken broth
1 Tbsp green onions – chopped
Chopped parsley for garnish
Preheat oven to 400 degrees
Directions:
Pound each breast between two sheets of wax paper (or inside a plastic zipper bag) until ¼ inch thick. Combine the garlic powder, onion powder, Italian seasoning, sea salt and pepper until blended (a mortar and pestle works great) and sprinkle over both sides of the pounded breasts. Season liberally, but don't over season – you may have ½ tsp left-over depending on the size of chicken breasts.
Using three separate plates fill one with the rice flour, one with the beaten egg and water, and one with the bread crumbs combined with the parmesan cheese. Dip each breast (one at a time) in first the flour and shake off excess, then the egg mixture, then the final dip into the bread crumb mixture. (At this point, if you need to make ahead of time, you can cover with plastic wrap and refrigerate 4 -6 hours.)
Heat 1 Tbsp of olive oil and 1 Tbsp of butter in a large sauté pan over medium-high heat (make sure oil is hot before adding the chicken). Add the chicken breasts and cook 2-3 minutes per side or until a light brown crust forms. Place on a baking sheet and bake for 10 minutes.
While the chicken is cooking, make the sauce by removing any particles from the pan and add 1 Tbsp butter, stirring until melted. Add the lemon juice and wine and cook for 1 minute, then add the chicken broth and bring to a gently boil until slightly thickened (2-3 min). Remove from heat, add remaining butter, chopped green onions and salt and pepper to taste.
Serve chicken breast on a bed of mashed potatoes and spoon sauce over top. Garnish with chopped parsley and fresh black pepper. Serve with green beans as a side.